My english blog


You can't imagine how happy I am, because today I am starting my new Blog in English. To communicate with people who are around me is like the oxygen I breath.
I'm not fluent, so this is for me a tremendous challenge, that, step by step, I'll get to my target.
This Blog is dedicated for all the people that I found in my long way traveling around the world and that influence my life.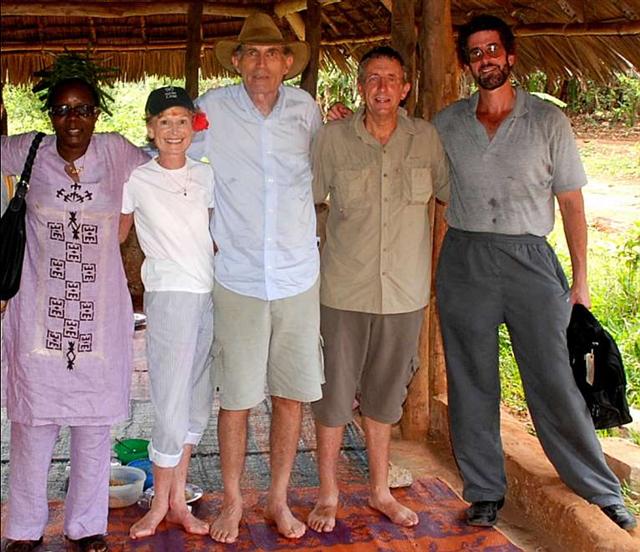 From left to right: Soloiux Bossa (judged from Uganda – United Nations), Dorothy Beasley (senior, retired judge, doing voluntary work in Ruanda), Raul (Brazil), John Parkin (experienced traveller – New Zealand) and Mark Segal (consultant for the development of democracy in the world – Ireland)
This picture represents the spirit that moves me on my travels. To share with people from all corners of the Earth the wish to make a better and more humanitarian world.
---
Raquel Giscafre
| | |
| --- | --- |
| ◊ Raquel Giscafre, Rache, as we fondly call her, my sister in law, was the first person who introduced me to the fascinating world of top tennis competition. She also taught me the ins and outs of roaming the world and the pleasure of having friends all over the world. Rache is a winner and with a strong personality, accuired with her partner Jane Sttraton in "Promotions Sports", great success in the Business International Tennis. Now she is Tournament Director of the Southern California Open – Octagon. | |
---


Rubio, Raul and Pedro in Porto Alegre
Pedro and Rubio
◊ Two other people for whom I have a very special corner in my heart are, Juan Carlos Roberts (fondly known as Rubio) and Pedro Quetglass Castagno. Rubio, an Argentine from Reconquista Santa Fé, notary, farmer, businessman and Rotarian was a very special man. A citizen of the world. He played tennis all over the world and where he went with his raquet he always made friends. A good father and warm friend who introduced me to the International Senior Tennis Circuit. Pedro, a very keen Spanish tennis player, who I met through Rubio in Porto Alegre, Brazil during the VIP Senior Tennis Championship. Pedro and Rubio were my guests at this time. I had invited them to the launching of my travel book ("Viajar uma Paixão"). It was a wonderful experience having them together with me. A very close friendship grew up between us and for many years Rubio and I were Pedro´s guests in Torreviejas, Cuesta Blanca, Spain for the tennis tournements held there. Pedro and his wife, Brigitte, were always very kind, welcoming hosts.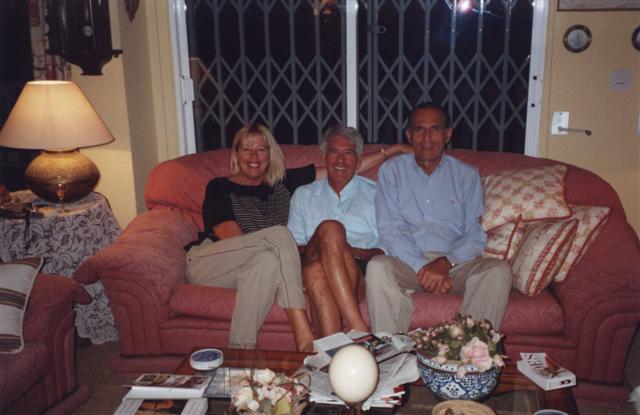 Brigite, Pedro and Raul in your home – Torreviejas, Spain
---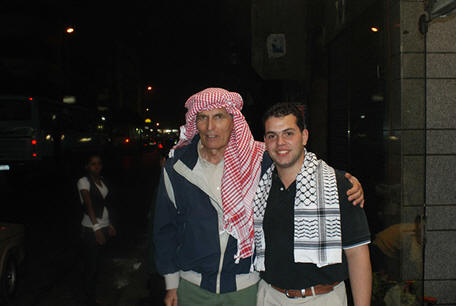 Discovering the Cairo night with Saleh
Saleh Thalgi
◊ I met Saleh Thalgi through a good friend, Nedal Thalgi, a lawyer from my city, Uruguaiana. They are a Palestinian family who are very close friends of mine. At present, Saleh is studying medicine in 27th of October, a university city near Cairo. He was my cicerone when I visited the Egyptian capital. He showed me special places only known to local people. An exceedingly warm, courteous and devout muslim.
With saleh we lived through a tragicomic experience when, driving from Alexandria to the Suez Canal, we stopped to photograph a huge petroleum tanker. We hadn´t realized we were in a high security military zone. We were arrested and spent four hours in a small dark room. The only light occasionally came from the military person´s mobile which he used to flash a light on our passports. Four hours later, miraculously, the light returned! It hadn´t been psychological pressure we were being subjected to, simply a third world power cut! Saleh has a special corner in my heart too. He is like a brother for me I promised him that I would return to Cairo for his graduation.
---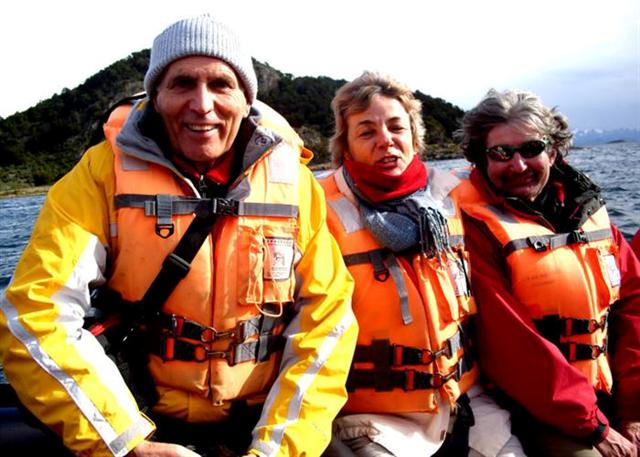 Sailing in the Beagle Canal with Gerard and Claire
Gerard and Claire
◊ I met Gerard and Claire, a French couple from Paris, on an adventure cruise from Ushuaia to Punta Arenas. Our cruise was on a Chilean ship "Crusero Australis". Happily I was fortunate enough to share the same table group with them. Also at our table were Thereze, from Hamburg, Mirco … . and from Switzerland and … . a Chilean engineer. Very soon, we were all getting on like a house on fire! We had a lot in common. Gerard is a real adventurer and his wife Claire, a charming history teacher. Both are very intelligent possessing an enviable knowledge of global culture.
This French couple are very special friends. Right from the beginning there was a natural empathy between us. A friendship has grown which should be valued and treasured for always. We visited them at their home in Medon, Paris. We spent just over a week enjoying their wonderful hospitality. We met Juliette and Ludovic, their charming children, and many friends. We were so fortunate to be taken by Claire and Gerard to visit places unknown to most tourists. Places, such as…
Six months later we had the immense pleasure of welcoming them to our home in Brazil. We joined them in Buenos Aires where we were able to introduce them to the charming and bohemian night of the Argentinian capital. As well as this we also showed them the beauties of the Tigre Delta and enjoyed some typical Argentine food at Puerto Madero.
Following their visit to Colonia, Montevideo and Punta del Este, Uruguay, we met again on the border of Uruguay and Brazil and journeyed up to Uruguaiana, Brazil, our home city. At an enjoyable evening party we introduce them to our friends and did our best to return their kind hospitality.
---
Justo Casal
◊ I met Justo Casal at a special moment in my life. I had been thinking of getting involved in humanitarian work in my future travels. I chose East Africa, Kenya, to start my new challenge. Why Kenya? Reading about this part of the world I have always been very impressed with the courage and spirit of discovering of great people such as David Livingston, Burton and Speck. I also have a deep admiration for the humanitarian work of Dr Albert Schweitser who was awarded the Nobel Peace Prize.
Justo, a young thirty-four year old man, had studied Photo Journalism at Kenya University when his father was Argentine Ambassador there. During the diplomatic career of his father, many times in underdeveloped countries, Justo was able to feel and experience the great need for humanitarian work which marked him deeply and was the beginning of his becoming engaged with helping refuges in the most remote areas in Africa.
Justo then continued his studies at Birmingham University where he graduted with a Masters degree in Human Rights. In 2010 he was chosen Student of the Year for his leadership and engagement with needy communities. It was through Justo that I was able to meet two Massai university students and there community at Lenkisen. We are now working together on the project "Hand in Hand with Africa", schools for needy children. The plan is to build a nursery school for three to six year olds.
Currently, this school functions under a tree surrounded by thorny bushes. At present we are raising the funds for this project and have received a lot of support from all segments of our society. It is a great challenge which we think can be fulfilled by next October.
---

Lake Nakuru National Park – main gate
Dennis Howard
◊ By pure chance, during my safari at Nakuru Lake, I ran into a specialist in adventure travels in Sub Saharan Africa. Dennis Howard, a very friendly charming person, is a member and organizer of Drifters Adventures from Johanesburg. He knows all the tips about all the remotest corners of the places he takes his travelers to. The countries Drifters Adventures travels to are: South Africa, Zimbabwe, Mozambique, Namibia, Malawi, Tanzania, Kenya, Uganda and Swaziland.
I really recommend traveling through the above countries with Drifters Adventures because, it is absolutely safe and very comfortable. The bus impressed me a lot. The panoramic windows offer a wonderful view in order to appreciate the marvelous scenery of the African savannas. Dennis was very helpful when I asked for tips for crossing from Namibia to the Indian Ocean using only public transport. Following this route, which was first taken by the English missionary, David Livingston, has been my wish for many years.
I have already read about the places which I'm interested in visiting, such as The Big Dunes and the Skeleton Coast in Namibia; the Kalahari Desert in North South Africa and the Okawango Delta in Zimbabwe (the largest interior delta in the world). I also intend to see the Zambese river and the famous Victoria Falls to end my journey.
---
Barish Sahin
◊ During my trip to Turkey, one of the birth places of our civilization, we had the opportunity to stay at a small boutique hotel, built into the typical red stones mountain side of Capadoccia. There I met a young and very kind person who worked at the front desk welcoming and helping the hotel guests. Barish Sahin was friendly and always ready to help me use the internet, to send my notes and photos to my blog. I am often in touch with him through facebook. He is my Turkish friend from Capadoccia.
---
My Maasai friends, John and Daniel
◊ Last year, on my new travel destinies, in the African Continent, my new passion, I had the pleasure of meeting my first Maasai friends, John and Daniel. We quickly became very close and got on like a house on fire. The Maasai people are very communicative and intelligent. They are my connection with the Lenkisem Community and together with Justo Casal, we idealized the project "HAND IN HAND WITH AFRICA", to build a small school for the needy children of the Lenkisem Community.We hope to celebrate the inauguration of the school this coming October.
Anything Is Possible
If there was ever a time to dare,
to make a difference,
to embark on something worth doing,
IT IS NOW.
Not for any grand cause, necessarily…
but for something that tugs at your heart,
something that's your inspiration,
something that's your dream.
You owe it to yourself
to make your days here count.
HAVE FUN.
DIG DEEP.
STRETCH.
DREAM BIG.
Know, though, that things worth doing
seldom come easy.
There will be good days.
And there will be bad days.
There will be times when you want to turn around,
pack it up, and call it quits.
Those times tell you
that you are pushing yourself,
that you are not afraid to learn by trying.
PERSIST.
Because with an idea,
determination,
and the right tools,
you can do great things.
Let your instincts,
your intellect,
and your heart,
guide you.
TRUST.
Believe in the incredible power of the human mind.
Of doing something that makes a difference.
Of working hard.
Of laughing and hoping.
Of lazy afternoons.
Of lasting friends.
Of all the things that will cross your path this year.
The start of something new
brings the hope of something great,
ANYTHING IS POSSIBLE.
Author Unknown
---
Pedro Cuenca – Madrid, Spain
I met Pedro Cuenca in Maun, Botswana, when we were having a drink in the Old Bridge Backpackers bar. Pedro is a young business man from Madrid and he spends his vacations travelling alone with his car and his tent round Africa.
As we chatted over our beers he told me that the next day he was going to Kasane and this was also our next destination.
He is a very charming friendly person and I gave him my book "Viajar,uma paixão", in which I tell the stories of my travels, as a way of sealing our friendship. As getting around in public transport is not very reliable in the area, I asked him if we could join him in his car and we would pay all the petrol and meals and, of course, if our luggage was not a problem. Happily he agreed! What might have been a difficult part of our trip turned into a very enjoyable partnership. We crossed the Kalahari Desert in the comfort of a car and listening to Joaquim Sabina, Pavarotti and Frank Sinatra.
We reached Kasane in the evening and had dinner together. The following morning we took a taxi to the Zambia border to see the Victoria Falls from that side. We lunched in an attractive hotel looking onto the falls. Pedro continued his trip to Zimbawe and we returned to Botswana. We said good bye and made plans to meet again next year for further adventures together.